A second-grade boy from Ashburn, Virginia has been spending his time off from school trying to come up with ideas to help front-line health care workers who are taking care of a growing number of patients sick with the new coronavirus, or COVID-19. This week, 7-year-old Zohaib Begg hit the jackpot when he began going to local hotels in the Ashburn area to see if they had any shower caps to donate to hospitals.
Not only did the hotels have shower caps that doctors, nurses and technicians could use as hair covers, they had stocks of gloves and face masks that the hotels were happy to give to Zohaib. After spending Wednesday and Thursday traveling to a half-dozen hotels, Zohaib and his mother, Isma Zubair, collected more than 6,000 items that could be used as personal protective equipment for health care workers struggling to find adequate protective gear.
Zohaib plans to donate the protective items to Inova Fairfax Hospital, where he had emergency surgery when he was 4 years old to remove a tumor from his abdomen. For the next three years, Zohaib was under the care of a hematologist to ensure there was no regrowth of the tumor. A year ago, his doctor gave him a clean bill of health.
"He's lived there and gotten care there. His hematologist who cared for him was there. He chose to donate locally to that hospital because he's a patient of that hospital. He was motivated to give back there," Zohaib's mother said.
In Virginia, the number of new coronavirus cases has increased dramatically over the past week. As of Thursday, the state had reported 460 positive cases of the coronarivus. Deaths due to COVID-19 are up to 13 statewide, and 65 people are hospitalized.
As the coronavirus pandemic started getting worse, Zohaib and his mother started talking about how they could give back to Inova Fairfax Hospital. They had heard that face masks were in short supply at hospitals.But Zubair said she doesn't sew, so they had to think of another way to get protective gear to hospitals.
A close friend who works in the Inova Fairfax emergency department told them they had a shortage of caps and that's when Zohaib and his mother came up with the idea of collecting shower caps from local hotels.
The crisis facing health care workers hits close to home for Zohaib. His grandmother works as a primary care physician in Michigan and an uncle works as a physician at Allegheny General Hospital in Pittsburgh. Both are working on the front-lines caring for people during the current pandemic.
"It turns out that not only did the hotels have shower caps to donate, but they had a lot of gloves and face masks," Zohaib's mother said. "Now he has over 6,000 items in PPE."
Because hotels are short-staffed, Zohaib and his mother contacted the hotel managers directly and it was the managers who rounded up the supplies for them.
Isma Zubair also has a 2-year-old daughter who has had her own health problems. She has adrenal insufficiency, which, among other things, means her immune system is compromised. In order to protect her daughter, Zubair and her son decided it would best if someone from Inova Fairfax could come to their house in the One Loudoun community of Ashburn to collect the items they had collected from hotels.
The hospital is scheduled to pick up all 6,000 items of shower caps, gloves and masks on Friday.
Zohaib attends Guidepost Montessori School in Broadlands, where they provide schooling for elementary-aged children. Zohaib's mother said she wanted to keep this collection effort local, only in the Ashburn area, because Zohaib is so young and they didn't want to place him or his sister at risk by traveling to hotels outside of the area.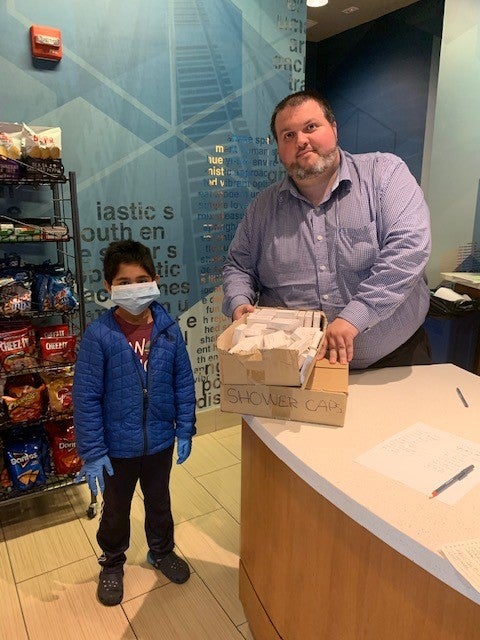 The Marriott hotel in Ashburn told them that the Marriott in Tyson's Corner probably had a large supply of shower caps, gloves and face masks. Zohaib's mother is hoping children in other areas of Northern Virginia will pick up the mantle and contact the hotels in their communities to see if they have any supplies they could donate to local health care facilities.
"Some hotels said they had a different delivery system and they could order more for the hospitals if we had an official letter," Zubair said.
Zohaib and his mother were able to collect items from six hotels in the Ashburn area: Hilton Garden Inn, Embassy Suites, Aloft, Courtyard Marriott Dulles, SpringHill Suites and Hyatt House.
Zohaib's said she read an article about the National Cathedral in Washington donating 5,000 masks on Wednesday to two Washington hospitals to help doctors, nurses and others to fight the coronavirus outbreak. The National Cathedral had purchased thousands of masks in 2005 or 2006 amid worries about an avian flu outbreak that were found stored in an unfinished burial vault in the cathedral's crypt.
After reading that article, Zubair suggested to Zohaib that they make it their goal to collect and donate more protective items than the 5,000 masks that the National Cathedral had donated. At the end of the day Thursday, the mother and son had met their goal.
Some hotels, like the Lansdowne Resort in Leesburg, said they could not donate any items because Zohaib and his mother did not have an official letter from Inova Fairfax Hospital indicating that they were collecting these items on behalf of the hospital.
Zubair said she is hoping that Inova Fairfax will now provide them with an official letter that they can provide hotels to let them know that the shower caps, gloves and mask will be used by health care workers. If the hotels could partner with the hospitals, it could help relieve the shortage of these types of PPE, she said.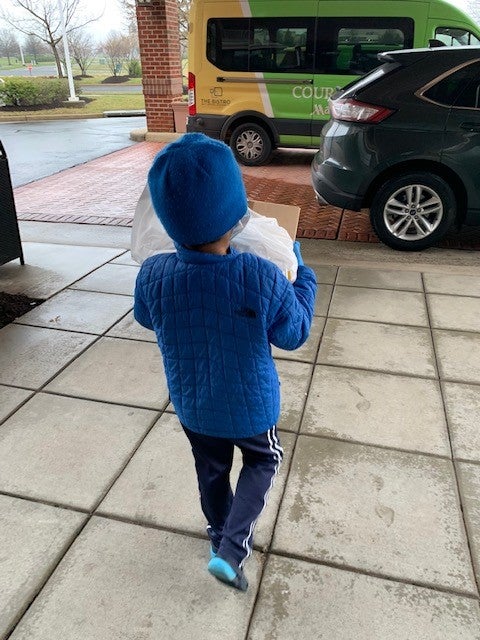 For other families hoping to help workers in hospitals, doctor's offices and other health care facilities through the collection of protective gear, Zubair recommends that they first get the medical facility to draft a letter indicating that the volunteers are collecting the items on behalf of health care workers.
"We want to motivate kids in other areas," she said. "We don't have the capacity to drive all over Northern Virginia."
( Source: Patch )
So many Americans right now are stepping up to help their communities. Zohaib Begg, a 7-year-old from VA, is one of them. This inspiring kid has been gathering supplies from hotels to donate to the medical professionals at his local hospital. https://t.co/K8Pvp9Cyaq

— Barack Obama (@BarackObama) March 30, 2020
---
Category:
Americas, Children, Featured, Highlights, Life & Society
Topics:
American Muslims, Coronavirus, Health, Humanitarian Aid, Pandemic
Values:
Charity, Compassion, Hope, Integrity
---
Views:
2298