The Islamic Arts Society aims to celebrate the rich heritage of Islamic Arts. It hopes to promote mutual understanding, enhance cultural and religious harmony, and bring the broader American community together. Art is a universal language and helps build bridges. It breaks the ice and starts a dialogue. The Islamic Arts Society has been particularly successful in creating understanding, tolerance, and coexistence through the medium of art in the recently, not only in Houston but all over America.
The Islamic Arts Society will be holding its 7th Annual Islamic Arts Festival (Online) on the 5th and 6th of December 2020. 
Islamic Art dates back to the 7th century. It consists of arts produced in lands inhabited by Muslims. It covers numerous places and people over the course of some 1,400 years. Islamic Art is not limited to religious art. It is also seen in day to day utilitarian objects as well as in architecture. It encompasses the rich and diverse cultures of Islamic societies. Even with this diversity, certain underlying themes and similarities unify and link the art across the Islamic world. These include architecture, art of the books (calligraphy and manuscript illumination), and arts of objects such as ceramics, glass, textiles, and metalwork. Each of these have been decorated with calligraphy, geometric patterns, arabesque, scrolling patterns, and floral or plant designs.
The Islamic Arts Society (IAS) is a Houston based non-profit organization. It was founded in 2014 by a small group of Houstonians who met by chance at a local museum during an exhibition of Islamic arts. They came from varied backgrounds. It includes a physician, an engineer, a home-maker, and business owner!  But they had one thing in common: their passion for Islamic Arts! Together they started the Islamic Arts Society. Since its founding in 2014, The Islamic Arts Society has gained recognition as the authentic source of all information pertaining to Islamic Arts in USA.
The Society organizes events to celebrate Islamic arts and culture.  It promotes the positive image of the Islamic community among Muslims and non-Muslims. The flagship event of the Society is the annual Islamic Arts Festival which is the largest and oldest festival of Islamic Arts in the USA. The first Islamic Arts Festival was held in Houston in November 2014. Since its humble beginnings, the festival has become the impetus for a national movement. Many groups throughout North America have followed the Society's lead and organized Islamic Art events in mosques and other places. The 2019 Festival showcased the art of 50 artists in a 10,000 sq. ft. area and drew over 6,000 visitors.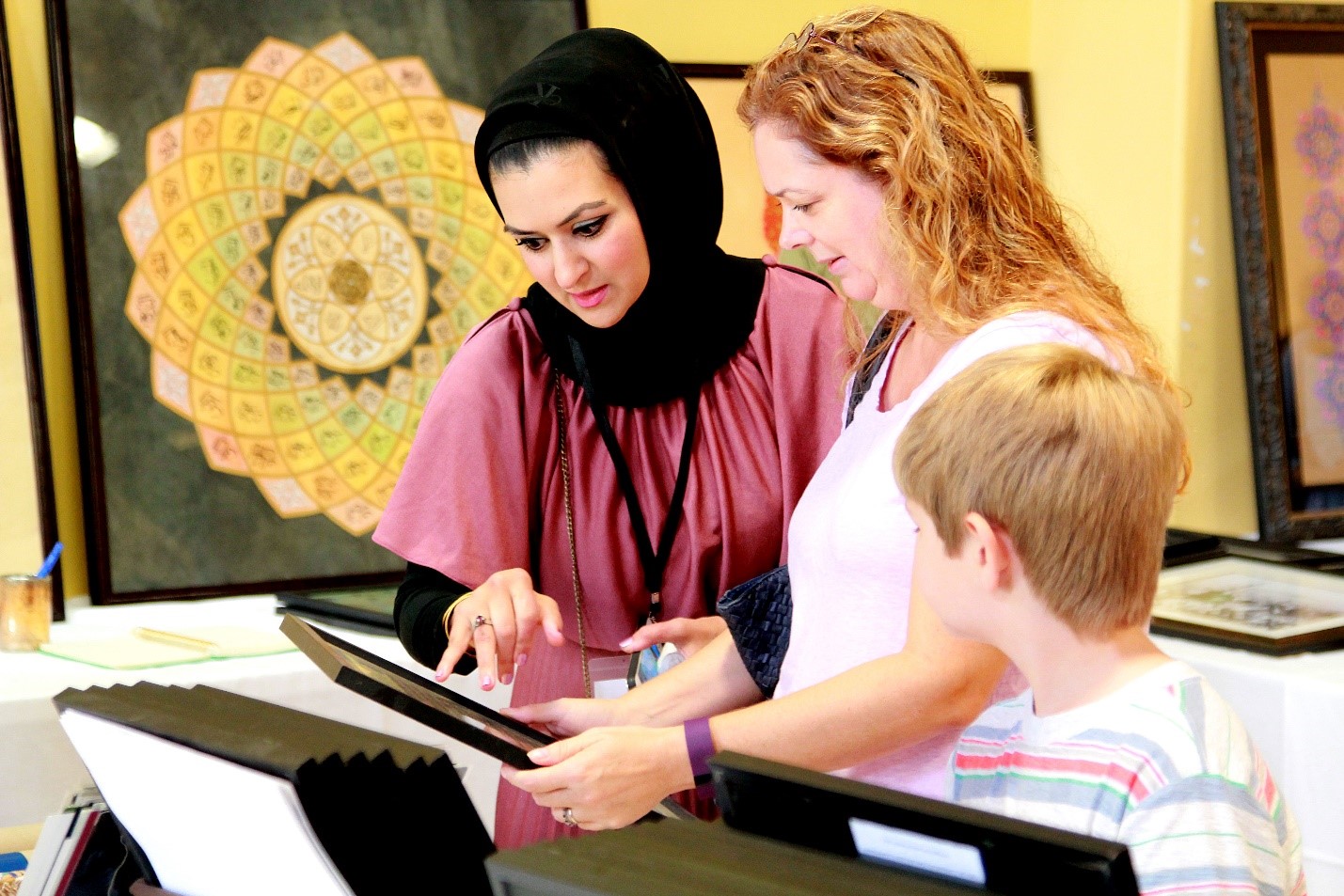 The Festival is held at a mosque. It brings together people from diverse cultures, faiths and backgrounds for two days of learning, fun, and festivity. The purpose of this event is to celebrate our culture and educate our non-Muslim friends about our traditions. The event provides an excellent opportunity for cross cultural education and dialogue among children and adults. Some of the art is displayed inside the prayer area. It provides an opportunity for the non-Muslims to visit a working mosque for the first time. The Festival is sure to captivate the casual visitor as well as the serious students of the arts. Over the years, the Islamic Arts Festival has become an annual ritual in Houston. It's regarded as an essential part of the cultural scene in Houston.
Another very positive impact of the Festival is the mentoring and education of a large number of youth volunteers. Each year almost 200 Muslim high school students prepare to receive the large number of visitors. The visitors attend a brief course on Islamic Art and are often surprised to learn about the connection between their religion and Islam. These young students take pride in discovering and presenting the beauty of Islamic arts in a festive and joyous environment. Both our volunteers and visitors are excited to learn about their heritage and culture in a positive light.
In 2017, the Islamic Arts Society curated "The Arts of the Islamic World," an exhibit of diverse works by Houston-based Muslim artists. More than 200 officials and dignitaries attended the opening reception. Mayor Sylvester Turner cut the ribbon, officially inaugurating the display. Consul generals, city council members, and other elected officials also attended. The reception was part of the two-month long exhibition at Houston City Hall. The exhibition was jointly organized by the Islamic Arts Society and the Mayor's Office of Cultural Affairs. It was co-curated by Shaheen Rahman of IAS and Gail Mebane of Harambee Art gallery. The exhibition showcased the work of 24 artists belonging to the Islamic Arts Society.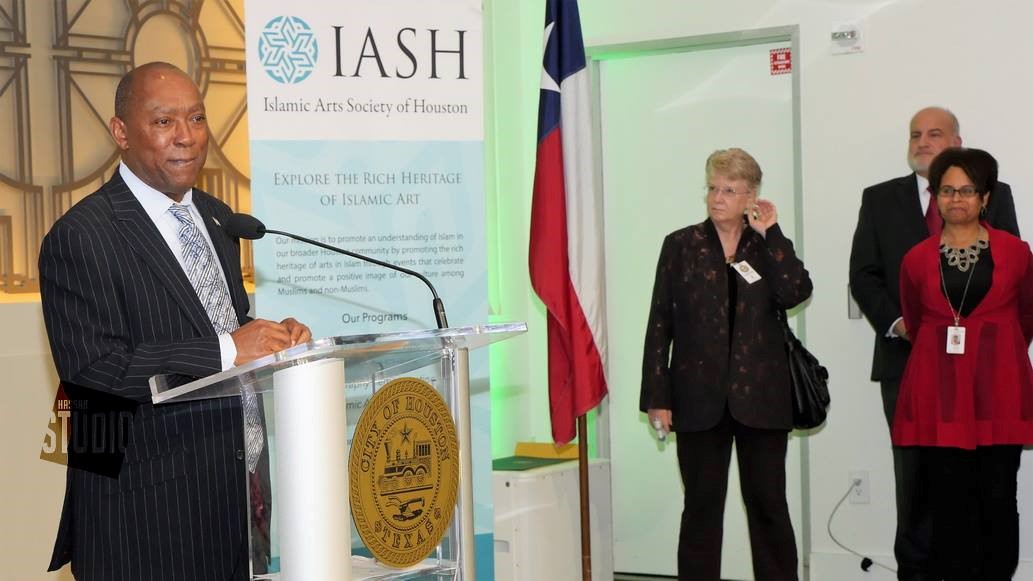 Over the last 7 years, the Islamic Arts society has collaborated with the Asia Society, Rice University, Interfaith Ministries, Houston Mayor's Office of Cultural Affairs, ISNA, IR-USA and other charitable organizations to bring Islamic art exhibitions and workshops to Houstonians. Many of these organizations now co-sponsor our annual programs. We have done joint programs with The Museum of Fine Arts and the Asia Society and have taken our programs to many cities across America. "I feel that outreach events like this helps people understand about the Muslim culture and way of life," said a visitor to one of our programs.
Through our library, school, and college outreach programs, we touch thousands more in the Greater Houston area. Our signature "Building Bridges Through Islamic Arts" program, employs an art exhibition, reception, and a hands-on interactive series of arts workshops where participants learn about Islamic heritage and culture. They also produce their own bodies of work using Islamic arts techniques. The society has conducted numerous such programs in schools, colleges, and universities in the greater Houston area as well as out of state. "We would like to thank Islamic Arts Society for this wonderful experience for our community and library," said Janna Hoglund, library manager.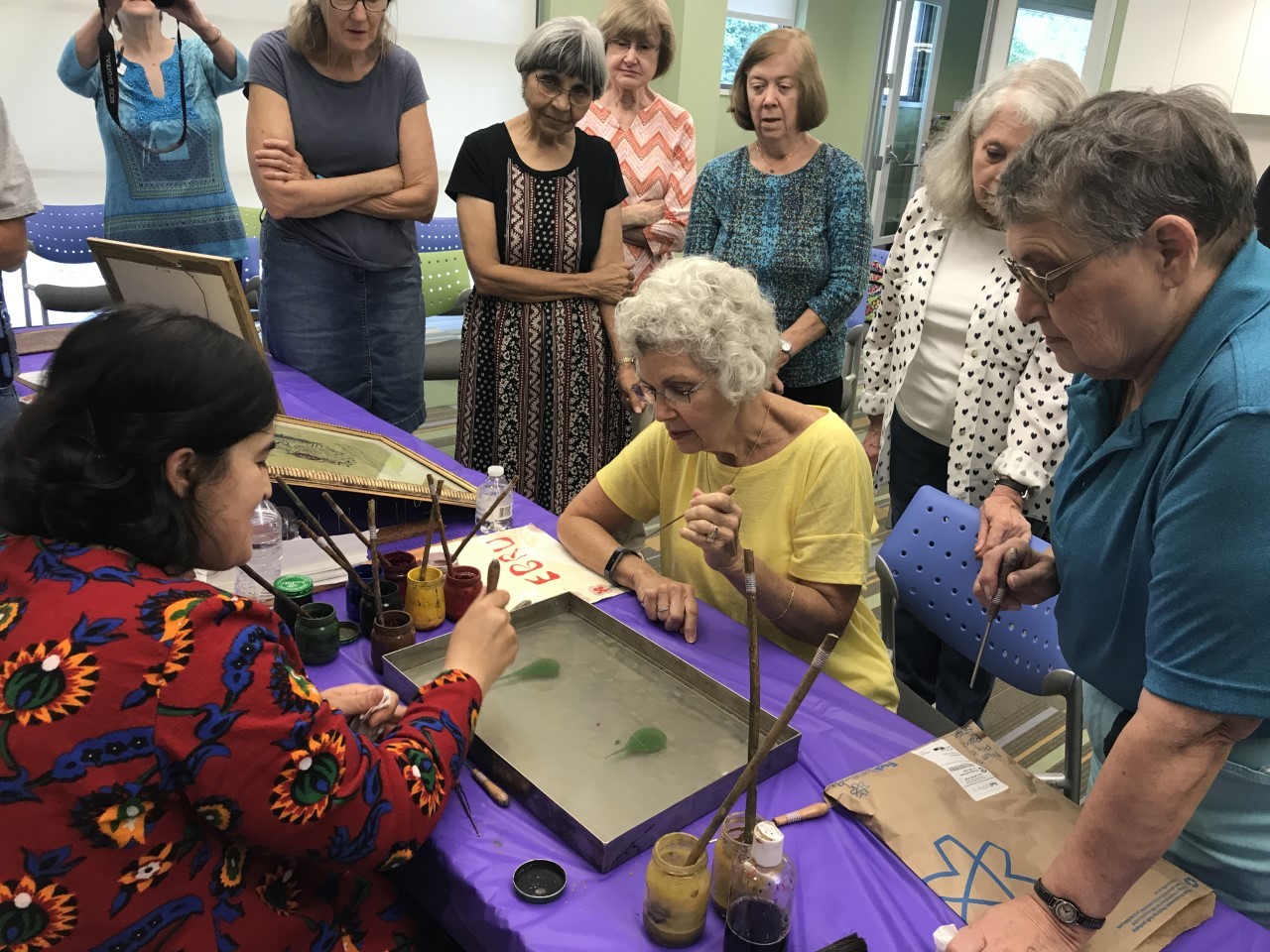 The inaugural Islamic Arts Society Gala was held on the 8th of March, 2020, at the Hilton Post Oak Hotel in Houston. Guests were surrounded by a museum like display of Islamic Art. This black-tie art event was attended by art enthusiasts as well as members of all denominations of Muslim, Jewish, Christian, and Sikh communities that call Houston their home. Over 500 local and state dignitaries and religious leaders attended the event.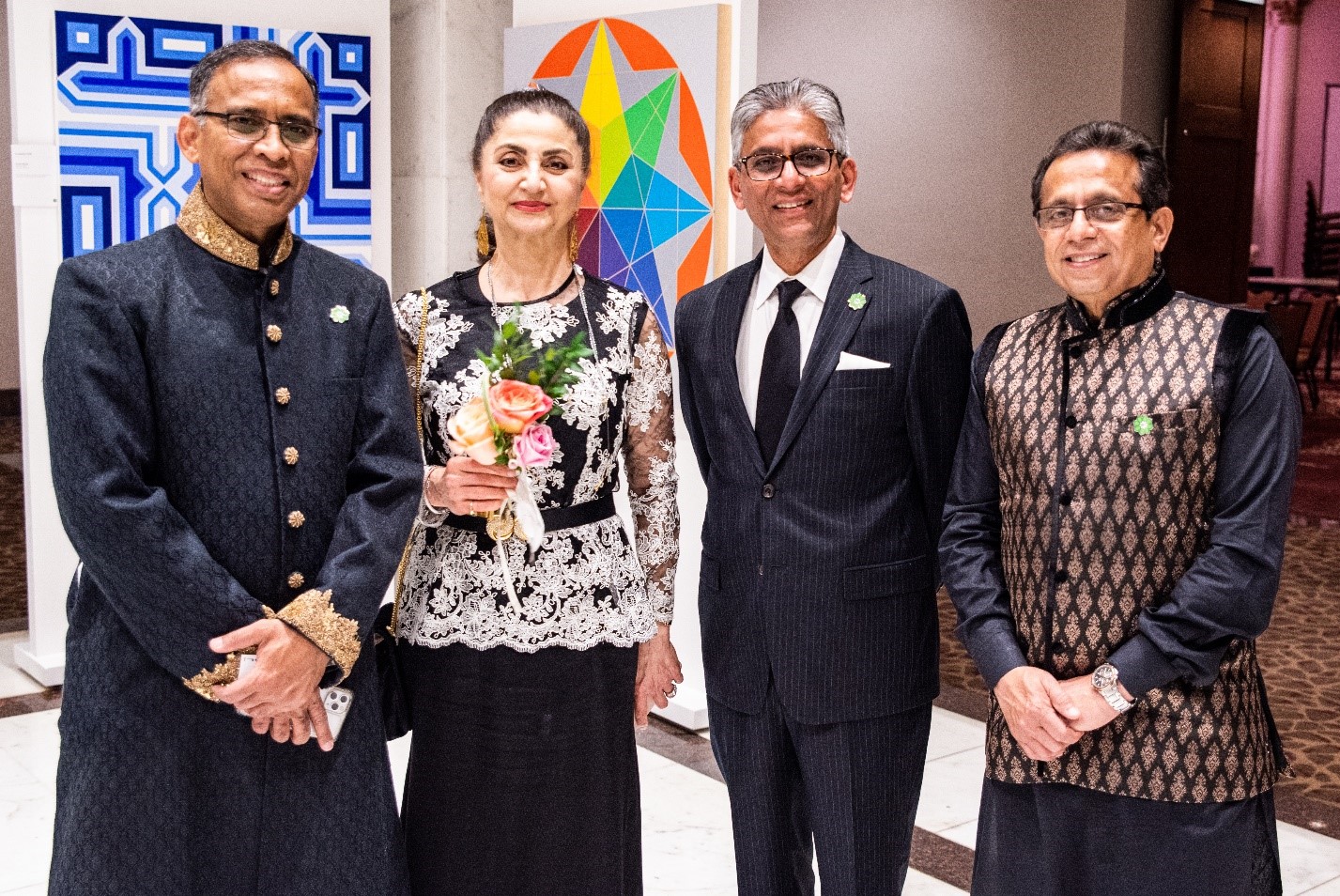 At the Gala, Dr. Aimée Froom, the curator of Arts of the Islamic World at the Museum of Fine Arts, Houston, praised the Islamic Arts Society's annual arts festival. She spoke about the Museum's partnership with the Society to bring quality Islamic art programs to the city.
Chairman of the Islamic Arts Society Dr. Khawaja Azimuddin said that through art we are engaging people of diverse backgrounds and bringing them together. "We believe it is not enough to only preach messages of peace and co-existence, but our goal is to create and showcase the countless forms of beauty that exists within our community. A stroke of a brush or the flick of a pen might just spark a conversation that would bring two groups of people together." Said Dr. Azimuddin
The key note speaker at the Gala was Houston Mayor, Hon. Sylvester Turner. Founding Board member of Islamic arts Society,  Zafar Tahir introduced the Honorable Mayor and mentioned the key role Mayor Sylvester turner has played in promoting diversity and inclusiveness in Houston. He mentioned that the Mayor's commitment to equitable communities goes far back in time and that he has been a staunch supporter of minority rights in Houston. Mayor Sylvester Turner praised the Islamic Arts Society for using art as the vehicle to bring the Houston communities together.
The Islamic Arts Society will be holding its 7th Annual Islamic Arts Festival (Online) on the 5th and 6th of December 2020.
Due to the Covid-19 pandemic we are taking our festival online and fans of Islamic art from all over the world will be able to experience a virtual event live in their own homes. The festival will feature art showrooms and visitors will be able to browse through the galleries and admire or buy magnificent pieces of artwork from artists all over America. In addition, there will be live interactive sessions on Calligraphy, henna, Ebru, arabesque, and the art of storytelling. Visitors will see master artists at work, watch videos on Islamic art and listen to a panel discussion on Islamic art moderated by world renowned experts on Islamic Art. We welcome you to join us for a live online festival on our website and experience the beauty of Islamic art.
Despite aggressive anti-discrimination efforts by civil rights organizations; there continues to be a need for inclusive, community building programs to foster meaningful and healing dialogue. The Islamic Arts Society has been providing such programs to local communities. Our programs are helpful in mitigating harm against the Muslim community by dismantling harmful misconceptions that create conflict between communities.
For more information on Islamic Arts Society and its work please visit: www.Islamicartssociety.org
---
---
Related posts from similar channels: