Aligarh Muslim University (AMU) is a public central university in Aligarh, India, which was originally established as the Muhammadan Anglo-Oriental (MAO) College in 1875. Muhammadan Anglo-Oriental College became Aligarh Muslim University in 1920, following the Aligarh Muslim University Act.
Moulvi Samiullah Khan is one of the earliest supporters of (his cousin) Sir Syed Ahmad Khan. When Sir Syed thought of opening schools for the dissemination of western education he was a co-worker and assisted him in all his educational activities and social reforms. Samiullah Khan and Sir Syed both were unanimous that the acquisition of western education for the Muslims was a pre-condition for an honorable life. He supported Aligarh Movement from its inception. There was no committee at the time without his name.
Samiullah Khan was born in December 1834 at Delhi in an aristocratic family. He was educated in Arabic and Persian at home and later joined the reputed Aalim of the time Moulvi Mufti Sadruddin Azurda. His family had won a name in Law as his two uncles and one maternal uncle had already joined the judiciary. Following their foot-steps, Samiullah passed the judicial examination in 1856 and was appointed Munsif at Kanpur in 1858. But he resigned from this and took to independent practice. His intelligence and understanding of legal complications soon won him a name. Again in 1872 he joined the judicial department and was appointed sub-judge at Aligarh.
He had a perfect command on Islamic Law and his judgments when referred to the Privy Council upheld the same with great appreciation. Justice Ameer Ali, in one of his judgments admired his ability to deal with most complicated cases. He was offered the office of the Chief Justice of Hyderabad with many concessions but he refused it because of the state's uncongenial atmosphere.
In 1880 he toured Europe with the object of seeing the educational and industrial development. When he returned to India, Sir Syed had gone to Bombay to receive him. During his Viceroyalty, Lord North Brook (1873-1876) was willing to send a diplomatic mission to Egypt and selected Moulvi Samiullah because of his very proficient knowledge of Arabic and English and because of his being the most trusted man of the administration.
This was a very crucial period for the British in West Asia because of the Pan-Islamic movement of Jamaluddin Afghani (1837-1897) but Samiullah did his job so efficiently that the relations of West Asian countries with Britain grew more cordial than ever and for that he was conferred the title of C.M.G. Moulvi Samiullah also helped to establish Muir central college at Allahabad later it became Allahabad University.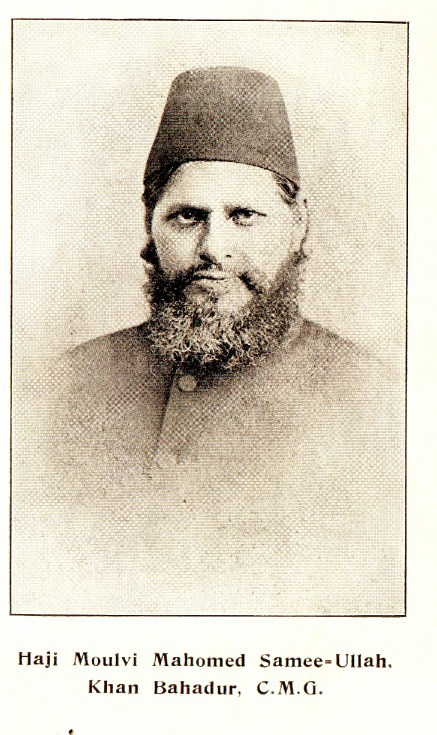 Moulvi Samiullah's contacts with Syed Ahmad started from his teen age and it was under his guidance at Bijnor, that Samiullah prepared for the judicial examination. In 1857 Samiullah was a man who saved his and Sir Syed's family from the wrath of the English forces and took them to Hazrat Nizamuddin for safety. After the revolt when Sir Syed was planning to persuade his coreligionists to accept English education, Samiullah joined him.
In almost every committee, if Sir Syed was the President, Samiullah was the Secretary. When Sir Syed had become the target of attack for his reformatory schemes it was Samiullah Khan, who shielded and cooperated him in the plans. When there was too much opposition of the foundation of a college for western education, it was Samiullah who advised Sir Syed to start a Madrasa and he himself laid its foundation on May 24, 1875 which started teaching after a week with only four students, the first being Hamidullah Khan, the son of Moulvi Samiullah.
The inauguration of the School was presided by Moulvi Mohammed Karim, President of Managing Committee. Speeches were delivered by Sir Syed, Raja Jai Kishan Das and Moulvi Samiullah. On June 1, 1875 the boarding house started with seven students on the roll with a budget of Rs. 989 per month. Managing committee constituted Moulvi Samiullah, Chiragh Ali, Syed Mahmood, Raja Jai Kishan Das, Sir Syed, Nawab Ziauddin Khan and Maulana Ahsan Nanotovi was appointed its member. Moulvi Samiulah Khan was appointed Secretary of the Managing Committee.
This Madrasa was to serve as a model as to what was wrong with the English teaching and what would be the code and conduct of the proposed Mohammadan College for which the Muslim community was scared. He supervised the construction of the College buildings and whenever Sir Syed was out to collect fund, Samiullah accompanied him. In the construction of Victoria Gate and other adjoining rooms Moulvi Samiullah played a vital role along with Haji Ismail Khan and Sir Syed Ahmad. In the inner portion of the Victoria Gate there is a marble plate in which his services to the College had been inscribed in Arabic for posterity to know what he had done for the College.
In 1875 in an Address presented to Sir William Muir, the Governor of N.W.F.P., his services were highly admired and Sir William also, while replying, appreciated his interest and motivation. In the annual report of the College 1877, Sir Syed highly appreciated his interest in the College and candidly expressed that had he not been there, the College would not have attained such a great success so soon.
In 1884 when Lord Ripon the Viceroy (1880-1884) visited MAO College he was impressed to know the zeal with which Samiullah Khan had performed the College work and he thanked him on behalf of the audience.
In the western side of the Strachey Hall, there is a spacious reading room known as 'Hamidullah Khan Lecture Room'. It was built to perpetuate the memory of Hamidullah Khan, son of Moulvi Samiullah Khan who had returned from London after getting his Bar-at-Law. Moulvi Samiullah chaired the First session of the Mohammedan Educational Conference in 1886 held at Aligarh. This shows his closeness to the Aligarh Movement.
From 1875 to 1889 Moulvi Samiullah whole-heartedly supported Syed Ahmed and the College and Syed owed much to his devotion. But there existed some rudimentary differences between them as well. Syed was pro-British and totally relied on English Staff, while Samiullah and party would disagree to this. Sir Syed and Syed Mahmood's leniency and soft attitude to the English Staff was an eye sore to Samiullah and party. Sir Syed knew this and felt seriously that after him Samiullah's party would have hard attitude to them which would not be conducive to the College.
Syed yet wanted the continuance of his policy till the College crossed its in far age. With this intention he introduced in 1889 a Trustee Bill in the Trustees Council for its approval to appoint Syed Mahmood the Honorary Secretary of the College after him. The Bill was vehemently opposed by Moulvi Samiullah and many other Trustees but anyhow it was passed. When the Trustee Bill was finally approved, the Moulvi Samiullah and his supporters severed their connections with the College.
Their names, however, remained on the list of trustees for some time and Sir Syed continued to ask their advice and opinions on matters concerning the affairs of the Colleges, but since they were completely opposed to the way in which the business was being conducted and never replied to Sir Syed's requests, he was left with no choice but to remove their names from the list.
Later, His Excellency Nawab Sir Viqar-ul-Umara Bahadur Madur-ul-Maham, the Prime Minister of Hyderabad who came to Aligarh to inspect the College, in the interest of the College and of the Muslims as a whole, did his best to intercede in the quarrel between Sir Syed and Moulvi Samiullah. As a result of his efforts, Sir Syed proposed to the annual general meeting of the Trustee Committee the names of the Moulvi Samiullah and his supporters should once more be put on the list. This proposal was willingly adopted by all those who were present, but for a number of reasons, Moulvi Samiullah have not agreed, and his Excellency's attempts to bring the two men together were all to no avail. This deprived the Aligarh Movement of the support of a very influential man who if continued, would have added more luster and glory to the College.
Moulvi Samiullah Khan passed away on 7th April 1908 in Aligarh and according to his instructions was laid to rest at Delhi in the courtyard of Shah Abdul Aziz, Mohaddis Dehivi.  He was born in December 1834, Delhi.  He was the founding Secretary, Management Committee of Madarsatul Uloom (24th May 1875) and founding President of Mohammadan Educational Conference (1886) in Aligarh. His teachers were Moulvi Mamlook Ali (also Sir Syed's teacher) and Mufti Sadruddin.  
His son, Hamidullah Khan [Afzal-ul Ullema Moulvi Mahomed Hamidullah Khan, Nawab Sarbuland Jung Bahadur], was the first student of Madarsatul Uloom and later became the Chief Justice of Hyderabad.   
Moulvi (also spelled Mawlawi, Maulvi, and Mawlvi) is an Islamic religious title given to Muslim religious scholars, or ulama, preceding their names, similar to the titles Mawlānā, Mullah, or Sheikh. Moulvi generally means a highly qualified Islamic scholar, usually one who has completed full studies in a madrassa (Islamic school) or darul uloom (Islamic seminary). It is commonly used in Iran, Central Asia, South Asia, South East Asia and East Africa.
( Source: Karwaane Aligarh - Hayat-e-Javed by Maulana Altaf Hussain Haali; Aligarh Movement by Prof. Shan Mohammad )
Additional references:
In Memoriam: Haji Moulvi M. Samee-Ullah Khan Bahadur (The Times Press, 1908)
"The greatest claim, however, which the Moulvi has to the gratitude of his countrymen is the share which he took in the moral and intellectual advancement of the Mahomedans of India.  In 1873, while he was the Subordinate Judge of Aligarh, he joined his cousin, the late Sir Syed Ahmed Khan, in laying the foundation of a movement which resulted in the speedy establishment of the MAO College." 1In Memoriam: Haji Moulvi M. Samee-Ullah Khan Bahadur (The Times Press, 1908), page 15
In 1877, Sir Syed made the following reference to Moulvi Samee-Ullah Khan: "This College, in connection with which I have read this report to you, has been founded only through the strong determination and sound judgment of Moulvi Samee-Ullah Khan ... when nobody would listen to him he, with characteristic liberal-mindedness, raised a special subscription, in which over and above his first subscription he added a thousand rupees, and with this money in hand he established this institution." 2In Memoriam: Haji Moulvi M. Samee-Ullah Khan Bahadur (The Times Press, 1908), page 17
Moulvi Samiullah Khan: The founder of Aligarh MAO College
"Yet the record pertaining to the Aligarh Muslim College, later on University, shows that even the one, who could be called the real founder of MAO College, Moulvi Muhammad Samiullah Khan, passed on the honour to Sir Syed Ahmed Khan." 3Moulvi Samiullah Khan: The founder of Aligarh MAO College
The British Empire: Colonial Office (CMG)

Wikipedia: Sir Syed Ahmed Khan
Aligarh Muslim University (AMU)
---
Category:
Asia, Featured, Highlights, Life & Society
Topics:
Aligarh Muslim University, Higher Education, History, India, Indian Muslims, Moulvi Samiullah Khan, Reformation, Religious Education
Values:
Education
---
Views:
1447