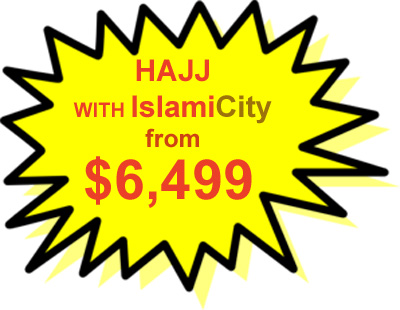 Join IslamiCity Hajj the journey of a lifetime, which every Muslim desires to take. Those fortunate enough to go are considered guests of God. To fulfill your need we provide wide range of Hajj Packages that you can choose.
Please click the following for more details.
To see the comparison chart please click here.
There are limited seats available.
Reserve your seat now, click here!
Please note that our Hajj packages take into account all possible details to make sure your Hajj is a fulfilling experience that embodies the essence of Hajj.
Like the trials and tribulations of Prophet Ibrahim that we commemorate, every Hajj experience has its own challenges. People focused on the spirit of Hajj overcome the challenges and have a truly successful experience. On our part we will make sure that all the trials of Hajj are given the proper attention. We pray that you will have the opportunity to be the guest of God for Hajj 1440/2019.
To inquire more info please click here.
Please let us know how we can help you.
| | |
| --- | --- |
| Reservation & Customer Support: | 714-362-1695 |
| General Information: | 310-642-0006 Ext 120 |
| Email: | |
Note: Due to Saudi hajj visa requirements we can only serve USA based customers.