As-Salaamu`Alaikum wa Rahmatullahi wa Barakatuh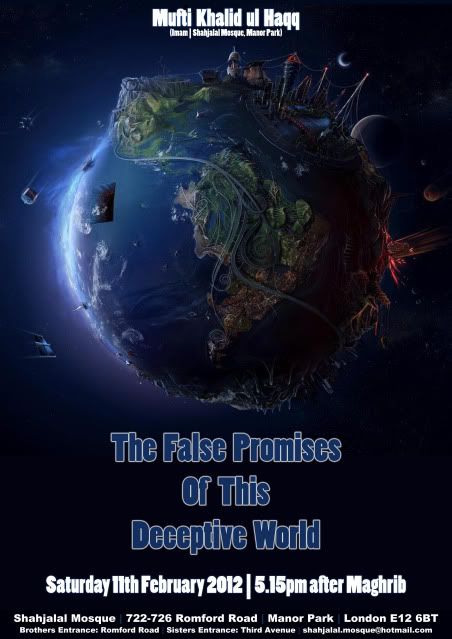 Allah the Exalted says; Allah extends provision for whom He wills and restricts [it>. And they rejoice in the worldly life, while the worldly life is not, compared to the Hereafter, except [brief> enjoyment." 13:26
This talk will focus on the realities of chasing the dunya and breaking the misconceptions of living a materialistic, carefree, anything goes sort of life. The focus will be on how deceptive this worldly life is and the rewards; in the dunya and akhirah of living a good, clean life.
EVENT:
The False Promises of this Deceptive World
SPEAKER:
Mufti Khalid ul Haqq
(Imam | Shahjalal Mosque, Manor Park)
DATE AND TIME:
Saturday 11th February 2012
5.15pm after Maghrib
VENUE:
Shahjalal Mosque
722-726 Romford Road, Manor Park, London E12 6BT
Free Admission
Brothers Entrance: Romford Road
Sisters Entrance: Third Avenue
Listen on Azaan receiver channel 2 or frequency 454.40625 MHz
For More Info:
[email][email protected][/email]
Allah the Exalted says; "O mankind, fear your Lord and fear a Day when no father will avail his son, nor will a son avail his father at all. Indeed, the promise of Allah is truth, so let not the worldly life delude you and be not deceived about Allah by the Deceiver." 31:33
Abu Hurairah and Abu Sa`id Al-Khudri (May Allah be pleased with them) reported: The Messenger of Allah (PBUH) said, "When a group of people assemble for the remembrance of Allah, the angels surround them (with their wings), (Allah's) mercy envelops them, Sakinah, or tranquillity descends upon them and Allah makes a mention of them before those who are near Him.''
[Muslim>.
Please try to attend and inform others
JazakAllahu Khairan
COMING SOON:
Friendship | The evils of free-mixing | The importance and benefits of marriage | A successful married life with ones spouse(s!) | The Islamic upbringing of our children