http://edition.cnn.com/2009/CRIME/06/02/new.york.robber.mercy/index.html
NEW YORK (CNN) -- A potential victim became a compassionate counselor during a recent robbery attempt, changing the would-be criminal's mind -- and apparently his religion.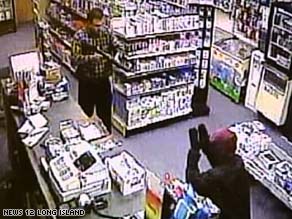 Storekeeper Mohammad Sohail was closing up his

Long Island

convenience store just after midnight on May 21 when -- as shown on the store's surveillance video -- a man came in wielding a baseball bat and demanding money.
"He said, 'Hurry up and give me the money, give me the money!' and I said, 'Hold on'," Sohail recalled in a phone interview with CNN on Tuesday, after the store video and his story was carried on local TV.
Sohail said he reached under the counter, grabbed his gun and told the robber to drop the bat and get down on his knees.
"He's crying like a baby," Sohail said. "He says, 'Don't call police, don't shoot me, I have no money, I have no food in my house.' "
Amidst the man's apologies and pleas, Sohail said he felt a surge of compassion.
He made the man promise never to rob anyone again and when he agreed, Sohail gave him $40 and a loaf of bread.
"When he gets $40, he's very impressed, he says, 'I want to be a Muslim just like you,' " Sohail said, adding he had the would-be criminal recite an Islamic oath.
"I said 'Congratulations. You are now a Muslim and your name is Nawaz Sharif Zardari.'"
When asked why he chose the hybrid of two Pakistani presidents' names, the Pakistani immigrant laughed and said he had been watching a South Asian news channel moments before the confrontation.
Sohail said the man fled the store when he turned away to get the man some free milk.
He said police might still be looking for the suspect but he doesn't intend to press charges.
"The guy, you know, everybody has a hard time right now, it's too bad for everybody right now in this
=========================
http://www.nydailynews.com/news/2009/06/04/2009-06-04_mohammad_sohail_store_owner_who_took_pity_on_robber_busted_for_selling_illegal_d.html
Mohammad Sohail, store owner who took pity on robber, busted for selling illegal drug paraphernalia
BY Zak Failla AND Christina Boyle
DAILY NEWS WRITERS
Thursday, June 4th 2009, 12:08 PM
A video still shows store owner Mohammad Sohail pointing a gun at a robber, who he then let go with $40 and a loaf of bread. Sohail was later busted by investigators for selling drug paraphernalia.
The compassionate convenience store owner who took pity on a would-be robber was busted on charges of selling illegal drug paraphernalia.
Mohammad Sohail, who runs Shirley Express in Shirley, L.I., was one of seven store owners raided by town investigators Tuesday night, as news of his heroic act was making was spreading across the country.
His business sold items such as pipes and bongs, which is a violation of town codes, a source said, adding that the charges are civil, not criminal.
Sohail said he did not get a summons or a ticket, and was unaware the pipes he was selling could be used for drug use.
"I've never even smoked a cigarette in my life. I thought they were for tobacco," he told the Daily News.
"I don't even drink beer, just strawberry milk."
Sohail, 46, made headlines Tuesday, when details emerged of his encounter with a masked bandit who entered his store May 21 and attempted to rob him.
Instead of handing over cash, the Pakistani immigrant reached for his licensed shotgun and pointed it at the crook who fell to his knees and begged for forgiveness.
Sohail took pity on the sobbing man who told him he was broke and unemployed, and he sent him on his way with $40 and a loaf of bread.
He also made the robber vow to end his life of crime and has said he does not intend to press charges.
"It was a town raid, not a police raid," Sohail said Thursday.
"They simply confiscated the pipes."
Sohail said investigators seized 101 pipes and six bongs from his premises and was concerned news of the raid would detract from the message he was trying to spread with his act of compassion.
"I don't want to thin my message. I'm not selling drugs," he said.
"I can leave everything - this store, everything in it - for my good name.
"I love my good reputation."