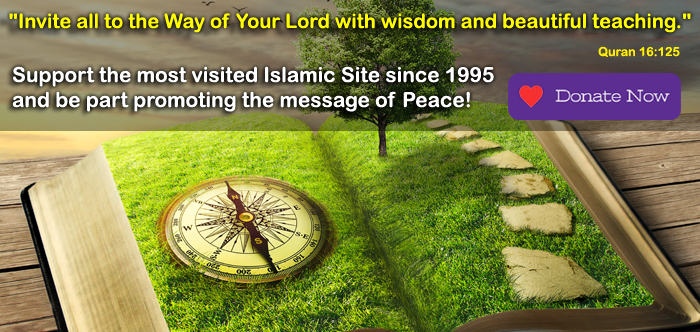 Please join IslamiCity's work for the last 22 years to promote the message of peace and counter the misinformation and hate that Islamophobia groups have been spreading.
ISLAMICITY FACTS
1. 250 million visitors served since 1995
2. Over 30,000 Free Quran requests fulfilled in the last 10 years
3. Just the Understanding Islam and Muslims section on IslamiCity has received over 7 Million visitors over the last 10 years
4. Top Islamic website visited by non-muslims as soon as there is any breaking news about Islam and Muslims
5. Recognized and referenced by major media outlets in the USA and around the world
6. Oldest & Largest Islamic site serving the message of peace for the last 22 years
Rush Your Gift— HELP US PROMOTE THE MESSAGE OF PEACE WITH WISDOM AND COMPASSION
With Sincerity and Gratitude,
-IslamiCity Team
Forget about changing the world

"When I was young I asked God, 'Give me the energy so that I can change the whole world.' I saw everyone doing wrong. I was a young revolutionary then and I wanted to change the face of the earth ...
The Exercise of Hikmah .. Wisdom

At times the word hikmah is interchanged with 'aql; as evidenced in the saying of Sayedna 'Ali, the tongue of a wise person is behind the heart and the heart of a fool is behind the tongue ..
Astaghfirullah

Astaghfirullah is the act of seeking forgiveness from Allah.  This is done by repeating the Arabic words astaghfirullah, meaning "I seek forgiveness from Allah ".
The Qur'an - A Unique Miracle

The Qur'an severally challenges its critics that it is not composed by any human but is the word of God, the Glorified, and Exalted. This challenge is first given in the following verses: "Or do they say , 'He fabricated the Message'? Nay, they have no faith! Let them then produce a recital like unto it -If it be they speak the Truth"
Thousands of Rohingya Muslims continue to flee Myanmar

Thousands of Rohingya Muslims from Myanmar continue to flee to Bangladesh in a new surge of refugees driven by fears of starvation and violence the United Nations has denounced as ethnic cleansing.
BAZAR PRODUCTS
All bazar products help support IslamiCity's outreach efforts.
Pendant: Kalima (Large Size)
| | |
| --- | --- |
| Hand crafted from pure silver and than plated with real gold for that special look. About 1.5 inches in diameter.. | |
Advertising

Our advertisers are a critical pillar of support. You can support us by supporting them. Learn More
---
Car Donation

A quick and easy process that supports our outreach efforts and allows you to claim a tax deduction. Learn More
---
Donations

We appreciate the donations received from our existing supporters, and we invite new donors to join this global community. Learn More
---
---
Zakat

Purify your wealth through increased understanding of Islam and the Quran by Muslims and non-muslims. Learn More