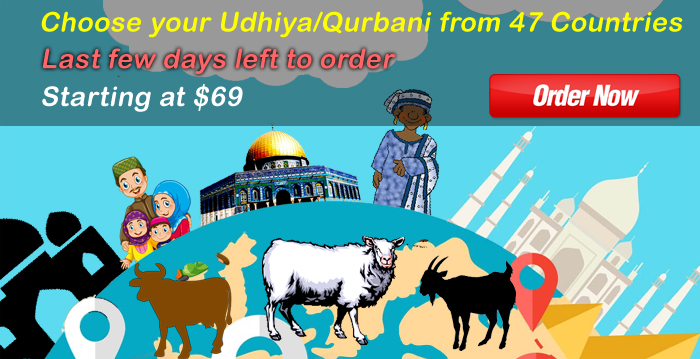 "Qurbani / Udhiya is a sacrifice that is offered at the time of Eid al-Adha to show gratitude towards God and to provide for the disadvantaged."
The Prophet Muhammad was once asked by his Companions: "O Prophet of Allah! what are these sacrifices?" He replied, "It is the Sunnah (practice) of your father Ibrahim." (Hadith - Ibn Majah)
For those who could not make it to Hajj

Muslims who visit Makkah for Hajj become part of God's promise to Prophet Abraham. Like any other article of faith, the pilgrimage can become meaningless if it is regarded as an end in itself rather than a means for the attainment of a meaningful life. The following story reminds us of the spirit of Hajj.
The Soul of Hajj

No annual event on the face of the globe, religious or non-religious, compares to hajj in terms of the sheer number of participants, duration of the event and the breadth of agenda. In spite of this fact, it has always remained equally fascinating and mysterious to not only non-Muslims, who are barred from entering the holy city ..
Why are the first ten days of Dhul Hijja considered the best

Various scholars say that the first ten days of Dhul Hijja are considered to be the best days of the year. In support of this assertion scholars give reference to the Quranic verse: By the Dawn, by the Ten Nights, by the even and the odd.
BAZAR PRODUCTS
All bazar products help support IslamiCity's outreach efforts.
Learn 50 Arabic words in less then 2 hours
| | |
| --- | --- |
| This innovative, dual language, educational game, is ideal for second language learners. It teaches everyday words in a fun, interactive way with the help of digital Flashcards, and multiple Educational Games.. | |
Advertising

Our advertisers are a critical pillar of support. You can support us by supporting them. Learn More
---
Car Donation

A quick and easy process that supports our outreach efforts and allows you to claim a tax deduction. Learn More
---
Donations

We appreciate the donations received from our existing supporters, and we invite new donors to join this global community. Learn More
---
---
Zakat

Purify your wealth through increased understanding of Islam and the Quran by Muslims and non-muslims. Learn More