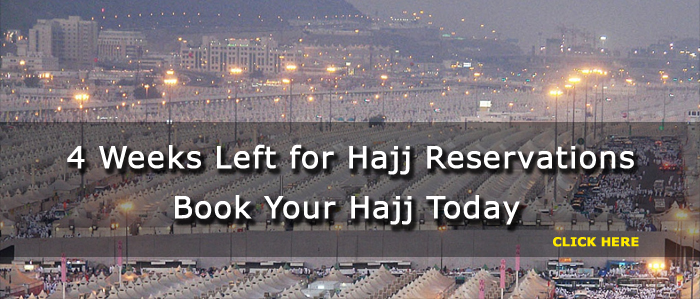 "O ye who believe! Avoid suspicion as much (as possible): for suspicion in some cases is a sin: And spy not on each other behind their backs."
Quran 49:12
Quran's Message for Humanity

If God is the Lord of the worlds and the Prophet is described as the messenger for the worlds and the Quran is introduced as a reminder to the worlds, then what is the relevance of the Quranic message to the world?
Getting Ready for Hajj - Physically, Mentally and Spiritually

Like any journey, being prepared in advance will help to maximize the experience and to deal with challenges. I compiled advice from different friends and experienced hajj veterans to help future Hajjis prepare physically, mentally and spiritually.
Islamic Hajj, Jewish Haj, and Near East Peace

When Jews learn about the wonderful festivities of the Muslim Hajj, with its spiritual uplift that occurs when millions of people from all over the world travel to one holy place and join together in a traditional religious ceremony: they realize just how much we Jews have lost.
One take away one is equal to one

If everything flows from God and everything returns to God, do you truly own anything? Are you not but a steward, taking care of that the portion of this world under your care, which is to be preserved and protected and possibly shared?
Inner Dimensions of Hajj

Friday Khutbah by Shaykh Mokhtar Maghraoui explaining the various dimensions of Hajj
BAZAR PRODUCTS
All bazar products help support IslamiCity's outreach efforts.
A Day with the Prophet (pbuh)
| | |
| --- | --- |
| A Day With The Prophet is a short but comprehensive guide for anyone who would like to know about the Prophet's (blessings of Allah and peace be upon him) daily life. By Ahmad Von Denffer, born in Germany in 1949. | |
Advertising

Our advertisers are a critical pillar of support. You can support us by supporting them. Learn More
---
Car Donation

A quick and easy process that supports our outreach efforts and allows you to claim a tax deduction. Learn More
---
Donations

We appreciate the donations received from our existing supporters, and we invite new donors to join this global community. Learn More
---
---
Zakat

Purify your wealth through increased understanding of Islam and the Quran by Muslims and non-muslims. Learn More