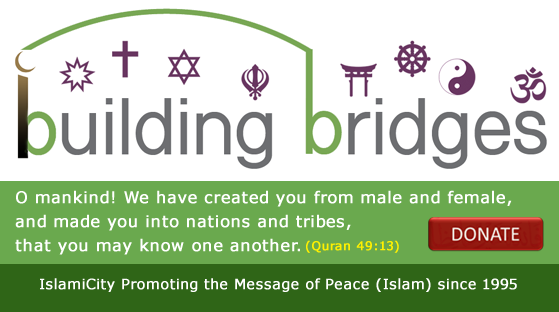 ""The bosom of America is open to receive not only the Opulent and respected Stranger, but the oppressed and persecuted of all Nations and Religions; whom we shall welcome to a participation of all our rights and privileges…""
George Washington (1732-1799)
Muslim travel ban and the dark cloud of bigotry

We are seeing around the world the rise of white supremacy and evangelical Christian influence who view every nonwhite Christian or non-Christian as a threat to Western Civilization and our country, America, is taking the leadership role.
The compassion of the Prophet towards those who abused him

Prophet Muhammad started the message of Islam in Arabia at a time when human rights had no meaning, might was right and the society was entrenched in paganism. In this environment, Prophet Muhammad taught a message of justice, peace, human rights, animal rights and even environmental rights as ordained by God, the One True Creator of all that is in the universe.
Walk on Water: The Wisdom of Jesus

The following sayings of Jesus (peace be upon him) from traditional Arabic sources are excerpted from Walk on Water, a book by Hamza Yusuf: Jesus peace be upon him was known to have said, "Virtuous action does not consist in doing good to someone who has done good to you that is merely returning a favor.
Islam would have saved Galileo!

In this short video you will understand that some verses in holy Quran need real scientists to explain them to us. Muslim scholars if they didn't study science, they will never be able to understand the meaning of these verses. That's why science is important to understand the holy Quran
IslamiCity: Thank You to All Donors

IslamiCity: Thank you to all donors, for your generous donation. Your donation enables us to share the message of Islam to the wider audience. May Allah subhanahu wata'ala, God almighty reward you here in the earth and hereafter. Amiin ya rabbal 'alamiin
BAZAR PRODUCTS
All bazar products help support IslamiCity's outreach efforts.
Quotation from Surah Yusuf (12:64)
| | |
| --- | --- |
| But Allah is the best to take care (of him), and He is the Most Merciful of those who show mercy!" - Replicate of dried (skeleton) tree leaves adorned with pious phrases in beautiful Arabic calligraphy were produced in Bursa, Turkey, during the Ottoman period. | |
Bismillah. Overall frame size 6 x 8 inches.
| | |
| --- | --- |
| This beautiful frame has a folding easel stand on the back. So it is ready to display on your table, mantle or hang from the wall without any additional expense. | |
Surah FATIHA (Quran: 1: 1-7)
| | |
| --- | --- |
| Large Faux Canvas Frame. Overall Frame Size 20 x 24 inches. This artwork shows an outstanding example of Arabic calligraphy with translation of Pickthall. | |
Advertising

Our advertisers are a critical pillar of support. You can support us by supporting them. Learn More
---
Car Donation

A quick and easy process that supports our outreach efforts and allows you to claim a tax deduction. Learn More
---
Donations

We appreciate the donations received from our existing supporters, and we invite new donors to join this global community. Learn More
---
---
Zakat

Purify your wealth through increased understanding of Islam and the Quran by Muslims and non-muslims. Learn More