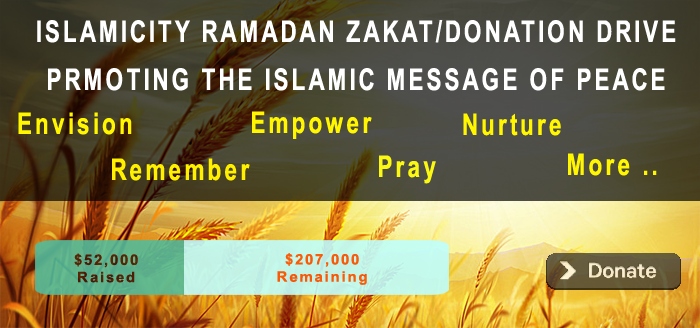 Have a heart that gives charity out of love, not obligation

Whether you give to a mosque or a cause its praise is given

Your name is written in the book of love

No need to fear hell or crave heaven

Your seat is reserved in the company of Rabbil Aalameen, Lord of the universe.

Ma salaama, Go in peace ?
Civilization then and the Muslim challenge now

Ibn Khaldun analyzed in detail the sources of error in society, in particular partisanship, overconfidence in sources, failure to understand what is intended, a mistaken belief in the truth, the inability to place an event in its real context, exaggeration, and what he regarded as the most important of all, ignorance of the laws governing the transformation of human society.
Categories of Zakat recipients in our times

According to a report by Global Humanitarian Assistance: Indonesia, Malaysia, Qatar, Saudi Arabia and Yemen, which is about 17% of the world's estimated Muslim population, indicates that in these countries alone at least US$5.7 billion is currently collected in Zakat each year.
Ramadan Daily Quiz

Join us for the Ramadan Quiz Challenge! Test your Islamic Knowledge! 5 Questions a day. Challenge your family and friends!
Ramadan Daily Reflections

This Ramadan join us for our daily video with inspirational words from our resident Imam Dr. Aslam Abdullah. Every day Dr. Aslam reflects on a verse of the Quran selected from each juz (1/30 part of the Quran)
Amplify the Message of Islam

Watch this 3-minute video to meet the people behind IslamiCity and see the work it is doing to provide a non-sectarian, comprehensive and holistic view of Islam and Muslims since 1995.
Live and recorded daily Taraweeh from Makkah

You can watch live daily Taraweeh from Makkah. If you can't watch the live Taraweeh, no worries, we record the daily Taraweeh so that you can watch anytime.
BAZAR PRODUCTS
All bazar products help support IslamiCity's outreach efforts.
EID MUBARAK GREETING CARDS. Islamic Prayer Rug.
| | |
| --- | --- |
| 40% Savings!Box of 10 greeting cards with matching envelopes. Express your feelings with this superb card. You, your family and friends will all be impressed! The compelling design is most appropriate for sending during Ramadan and Eid. | |
Maasha Allah. Replica of a centuries-old ceramic tile.
| | |
| --- | --- |
| This vividly colored artwork is a replica of a centuries-old ceramic tile. The Arabic phrase "ma sha'Allah" ...... meaning; "as God wills" or "as God wishes" has become a part of the daily discourse of pious Muslims. It occurs repeatedly in the Noble Quran, for example, see verse 87:7. | |
Listen & Color Allah Made Them
| | |
| --- | --- |
| This innovative app turns your iPhone & iPad into a no-mess, cute, and fun digital coloring book for your kids. | |
Advertising

Our advertisers are a critical pillar of support. You can support us by supporting them. Learn More
---
Car Donation

A quick and easy process that supports our outreach efforts and allows you to claim a tax deduction. Learn More
---
Donations

We appreciate the donations received from our existing supporters, and we invite new donors to join this global community. Learn More
---
---
Zakat

Purify your wealth through increased understanding of Islam and the Quran by Muslims and non-muslims. Learn More