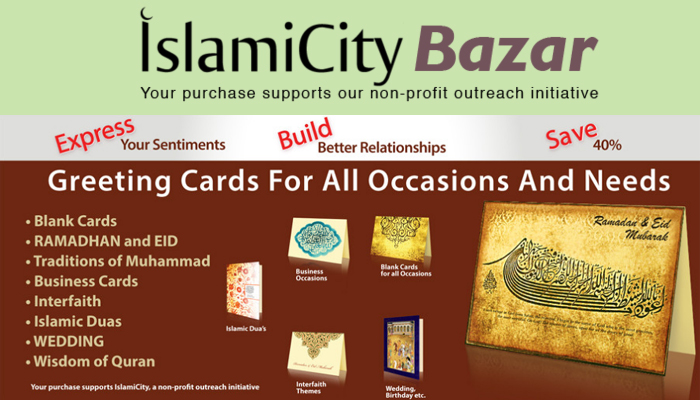 Dear Brothers, Sisters, Respected Elders and our Dynamic Youth,
On behalf of all our team members at IslamiCity we wish you an awesome and blessed RAMADAN!!
We pray that may God enlighten our spirit with the message of the Quran and may He help us instill the love of Prophet Muhammad (s) in our hearts so that we can follow his example to be an example of mercy for all of humanity.
With appreciation,
Amr Saemaldahr, Mustafa Haluk Karamate, Adji Sudamadji, Azhar Moeen, Dr. Rami Doueiri, Nabeeha Aleem, Jawahar Khwaja, Mubeen Abdul Mohyi, Raisa Shafiyyullah, Nazrul Islam, Mahbuba Hammad, Samia Bano, Mohammed Abdul Aleem, Dr. Dany Doueiri, Munir Shaikh and Muneeb Abdul Malik. -IslamiCity Team
Record Your Ramadan Message

Share with people around the globe what Ramadan means to you ... LET THE WORLD SEE & HEAR ABOUT THIS GLORIOUS MONTH!
Oh Allah, Help Me Reach Ramadan

Oh Allah, extend my life so much, that I enter the month approaching me, - So that I can have my share of the blessings therein showered by Thee - For it is only Your will that does to a life bring an end - Or grant it time to live, to regret, to repent and ..
Preparing for Ramadan

Friday Sermon "Preparing for Ramadan" by Wisam Sharieff at the Islamic Society of Boston Cultural Center. Ustadh Wisam Sharieff is the founder of Advocating Qur'anic Literacy (AQL), an institute focused on educating communities on how to read, memorize, and understand the Qur'an.
Ramadan Ramadan Ramadan

Ramadan Ramadan Ramadan - We've been waiting all the year - Ramadan Ramadan Ramadan - is finally here ..
BAZAR PRODUCTS
All bazar products help support IslamiCity's outreach efforts.
Bismillah. Overall frame size 6 x 8 inches.
| | |
| --- | --- |
| This beautiful frame has a folding easel stand on the back.So it is ready to display on your table, mantle or hang from the wall without any additional expense.. | |
Reproduction Of A Miniature Depicting Mecca & Medina.
| | |
| --- | --- |
| We at IslamiCity feel that the best way to engage and build bridges with "the other" is through art, sports, culture and food! To this end we have published a range of Greeting Cards that illustrate the universal values shared equally by Islam and other traditions worldwide. | |
Advertising

Our advertisers are a critical pillar of support. You can support us by supporting them. Learn More
---
Car Donation

A quick and easy process that supports our outreach efforts and allows you to claim a tax deduction. Learn More
---
Donations

We appreciate the donations received from our existing supporters, and we invite new donors to join this global community. Learn More
---
---
Zakat

Purify your wealth through increased understanding of Islam and the Quran by Muslims and non-muslims. Learn More