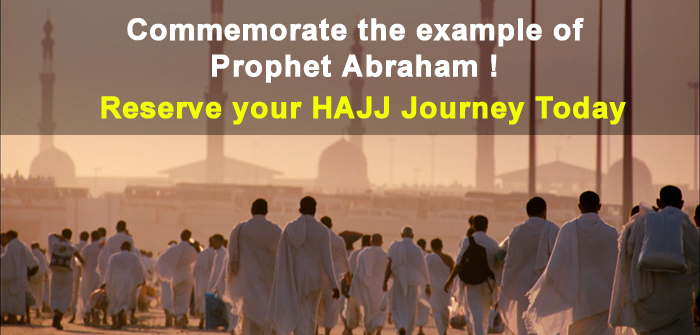 "Do what you should do when you should do it - Refuse to do what you should not do - And when it is not clear, wait until you are sure"
Prophet Muhammad (s)
The First Hajj

Essential to Muslim belief are Abraham and his son Ishmael. In the Qur'an they are the ancestors of the Arabs who together established Mecca's unique spiritual Status. Every ritual action of the Hajj pilgrimage can be seen to have been initiated by these great patriarchs.
Do you know these 10 facts about Hajj and Kabah

Hajj is the canonical pilgrimage in Islam that must be performed by Muslims, who are physically and financially capable, once in their life time. It is an exercise that believers embark upon for several days to rise above the routines of daily life ..
How Abraham Initiated Globalization

Social scientists, historians, and economists have been running something of a competition to theorize the origins of the two hallmarks of our time: The catalyst that occasioned the modern era, and the event-onset of globalization.
Why Conversations Matter

Why we need to talk, now! How extremists in all camps (religious, secular, ethnic, etc.) have monopolized and hijacked the conversations and are leading us to conflict and disaster. The silent majorities in every group needs to step up to take the bull by its horns. We need to redirect the conversations to love, peace and justice.
Greece: Athens Mosque Still Under Construction

Athens is the only European capital without an official mosque. One has been under construction and was supposed to be finished last April. But as Caitlin McGee reports, delays have meant that the city's Muslims have come up with their own alternatives.
BAZAR PRODUCTS
All bazar products help support IslamiCity's outreach efforts.
The Kaba
| | |
| --- | --- |
| Now You Can Afford to Bless and Decorate Your Home at the same time. .This image depicts the Holy Mosque in Mecca (Kabaah) after sunset. * Overall Size: About 19'' x 8"* Image Size: 17" x 6"* | |
Advertising

Our advertisers are a critical pillar of support. You can support us by supporting them. Learn More
---
Car Donation

A quick and easy process that supports our outreach efforts and allows you to claim a tax deduction. Learn More
---
Donations

We appreciate the donations received from our existing supporters, and we invite new donors to join this global community. Learn More
---
---
Zakat

Purify your wealth through increased understanding of Islam and the Quran by Muslims and non-muslims. Learn More