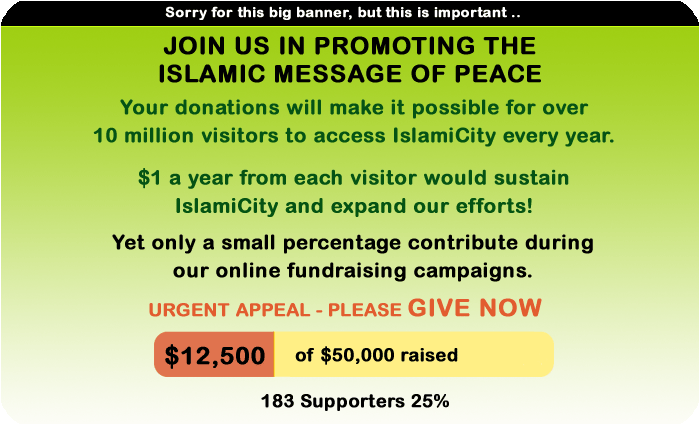 "IslamiCity is one of the oldest online Islamic communities since 1995. ***** Celebrating 22 years of service!"
Dossier: Muslims Condemn Terrorism

When a classmate told 19-year-old Heraa Hashmi that "all terrorists are Muslims" she began to compile a dossier of all instances of Muslims condemning terror attacks. It happened in history class. Heraa Hashmi, a 19-year-old American Muslim student at the University of Colorado ..
Prophet Muhammad: A Mercy For All Creation

God's Messenger was the kindest of men in the same way as he excelled all others in courage and valor. Being extremely kind-hearted, his eyes brimmed with tears at the slightest sign of inhumanity.
Defund Islamophobia Now

While a commitment to standing with the Muslim community against Islamophobia is as important as ever, words are meaningless if not backed up in real ways that reflect this commitment. That means definitively opposing all ..
Love is the Inner Essence of Islam

A man once came to the Prophet (puh) and asked him about the hereafter. The Prophet asked him, "And what have you prepared for that time?" The man replied, "Nothing, except that I love Allah and I love you." The Prophet (puh) answered him, "You are with the ones you love."
Good News in Bad Times

Born and raised in California, Usama Canon embraced Islam in 1996. Since then, he has had the honor of studying various Islamic Sciences both at home and abroad under some of today's foremost scholars. Usama is the Founding Director of Ta'leef Collective and maintains an active role in various facets of outreach and education ..
Love, Marriage and Society - Spoken Word

Marriage today is struggling. Divorces, adultery, misconceptions, etc are plaguing not only the marriage itself but products of those marriages (my generation and the next). My hope in this poem is to highlight the most frequent and problematic issues marriages face today ..
BAZAR PRODUCTS
All bazar products help support IslamiCity's outreach efforts.
99 Names of Allah. 12 x 15 inches Frame
| | |
| --- | --- |
| Bless And Beautify Your Home Instantly with superbly mounted Islamic Art at affordable prices. This artwork shows the "99 Names of Allah" in an outstanding example of classical Arabic calligraphy. English translation and transliteration is provided for each Name. | |
Heart Shaped Pendant
| | |
| --- | --- |
| Bring beauty and blessings into your life with The IslamiCity Collection of Pendants. Our Pendants are simply the "Best" gift for her. Each Pendant is painstakingly hand crafted by a master craftsman in the traditional manner. All pendants and chains are made from SILVER and than plated with REAL GOLD.. | |
Advertising

Our advertisers are a critical pillar of support. You can support us by supporting them. Learn More
---
Car Donation

A quick and easy process that supports our outreach efforts and allows you to claim a tax deduction. Learn More
---
Donations

We appreciate the donations received from our existing supporters, and we invite new donors to join this global community. Learn More
---
---
Zakat

Purify your wealth through increased understanding of Islam and the Quran by Muslims and non-muslims. Learn More