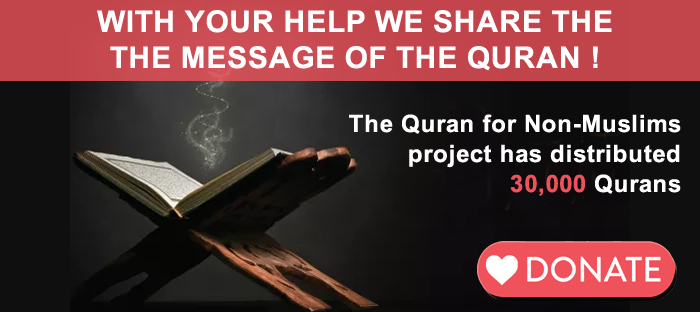 "Our Lord, grant us Your mercy, and show us right solutions to our challenges."
Quran 18:10
10 Reminders from the Quran

The message of God speaks directly to the heart of the believer and demands reflection leading to an active consciousness of God. We believe God has sent us reminders throughout human history to help us remember His signs and covenant to humankind. But we are only human and are prone to forgetfulness. May He open our hearts with His message ..
Differences of Opinion - Peaceful and Militant

The Quran requires a general discussion, exchange of views, and serious consultation (shura) about public concerns before a decision can be reached (3:159, 42:38). Difference of opinion, even dispute, should be expected (4:59). Muslims have to argue in the best way (16:125), logically and ethically ..
Can There Be a Doubt About God?

There is nothing plainer and, at the same time, more powerful than the truth. The truth about life is readily available everywhere and in everything. It easily proves itself because it is the only reality. It is the only thing that actually exists. Everything else is illusory and is, in actual fact, non-existent.
Science in Quran: E09 - The Creation

This lecture once again steps back to take a look at a general topic, that of the notion of creation of the universe, as noted in the Quran and the Bible.  It is clarified that although we take it for granted that the universe had a beginning, consistent with its creation, this idea actually represented a complete revolution in ..
BAZAR PRODUCTS
All bazar products help support IslamiCity's outreach efforts.
Maasha Allah. Replica of a centuries old ceramic tile.
| | |
| --- | --- |
| This vividly colored artwork is a replica of a centuries old ceramic tile. The Arabic phrase "ma sha'Allah" ...... meaning; "as God wills" or "as God wishes" has become a part of the daily discourse of pious Muslims. | |
Advertising

Our advertisers are a critical pillar of support. You can support us by supporting them. Learn More
---
Car Donation

A quick and easy process that supports our outreach efforts and allows you to claim a tax deduction. Learn More
---
Donations

We appreciate the donations received from our existing supporters, and we invite new donors to join this global community. Learn More
---
---
Zakat

Purify your wealth through increased understanding of Islam and the Quran by Muslims and non-muslims. Learn More