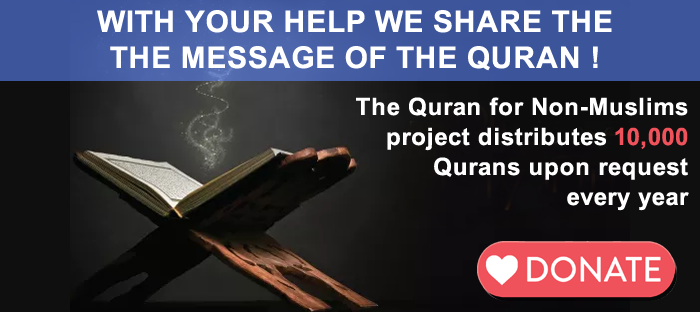 ".. Let them pardon and forgive. Do you not wish that God should forgive you? .."
Quran 24:22
Was the Quran taught to the Prophet by priests?

If he had received all his knowledge from the monk Bahira and during the journeys he made later when he was 25, then it could justi?ably be asked why did Prophet Muhammad not claim Prophet-hood until he was forty years old?
Why a non-Muslim should know the Koran

The Qur'an is undeniably a book of great importance even to the non-Muslim, perhaps more today than ever, if that is possible. One aspect of Islam that is unexpected and yet appealing to the post-Christian secular mind is the harmonious interplay of faith and reason. Islam does not demand unreasoned belief. Rather, it invites intelligent faith, growing from ..
How Two Jewish Rabbis Respected and Protected The Ka'bah

The intertwined history of Jews and Arabs in Arabia is a very important study that has the potential of advancing reconciliation and understanding between Jews and Muslims. Before I can explain Ibn Kathir's account of the two rabbi ..
On Reading the Koran

Lesley Hazleton sat down one day to read the Koran. And what she found -- as a non-Muslim, a self-identified "tourist" in the Islamic holy book -- wasn't what she expected. With serious scholarship and warm humor, Hazleton shares the grace, flexibility and mystery she found, in this myth-debunking talk.
Koran by Heart

A global contest reading of the Quran by young Muslim children that takes place in Cairo, Egypt annually during Ramadan. A coming of age story about Muslim kids in modern times.
BAZAR PRODUCTS
All bazar products help support IslamiCity's outreach efforts.
SIX VOLUME SOFT-COVER EDITION. THE MESSAGE OF THE QURAN.
| | |
| --- | --- |
| A new and greatly enhanced edition of The Message of the Qur'an, the much sought after interpretation of the Qur'an by Muhammad Asad. This is the 6 volume paperback (complete) set, in a travel box. Each volume is easy to hold and study from, making it better for students.... | |
SALE: Study The Noble Quran WORD-for-WORD (Three Volume Set, Hardbound).
| | |
| --- | --- |
| To understand the Quran, it is necessary that one should learn the translation of every word of the Verses. It can be very difficult to understand the Quran without the knowledge of the meanings of the Arabic words. Therefore, to convey the accurate meaning of the Quranic Verses this task... | |
Advertising

Our advertisers are a critical pillar of support. You can support us by supporting them. Learn More
---
Car Donation

A quick and easy process that supports our outreach efforts and allows you to claim a tax deduction. Learn More
---
Donations

We appreciate the donations received from our existing supporters, and we invite new donors to join this global community. Learn More
---
---
Zakat

Purify your wealth through increased understanding of Islam and the Quran by Muslims and non-muslims. Learn More